Stewardship is fostering creativity and opportunity through collaboration and empowerment.
Columbus Idea Foundry is the culmination of the "Do it Yourself" movement and the wealth of information now available for free online. It truly is a community of makers designed to help people explore new ideas and unleash their passion to make things. It is built to empower people and their ideas. The heart of the Columbus Idea Foundry (CIF) is the perfect harmony of low tech (handsaws and glue clamps) and high tech (3D printers and electronics labs).
CIF Founder Alex Bandar initially doubted success was possible with the tight budget -- but where other architects may have seen a hassle, TRIAD saw an opportunity and met expectations under budget. In fact, upon completion, the space attracted further investment from additional partners.
The first floor of the 60,000 square foot former shoe factory is filled with artists, blacksmiths, woodworkers, industrial designers, furniture makers, robotics experts and more.
Phase II of the CIF project, made possible by the success of Phase I, expanded the second floor into a space for coworking, education, and events.
The Idea Foundry's community includes professional craftspersons and artists, hobbyists, students, startup companies, established companies, and small disruption groups from large corporations. The community is at the center of the Idea Foundry - the design is intended to invite the community to collaborate, creating sparks of innovation.
Pointview elementary school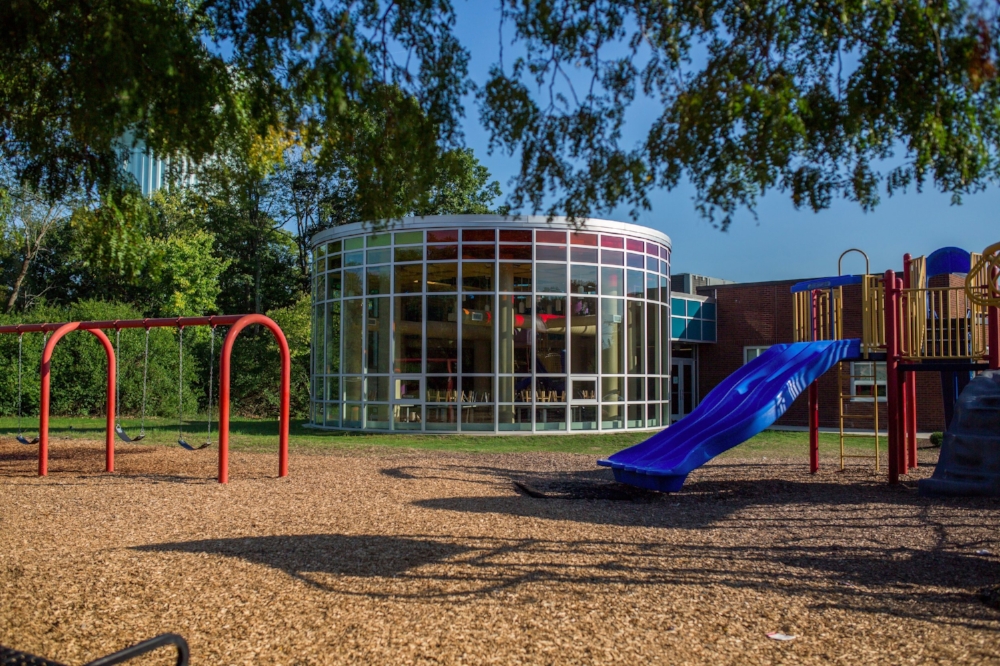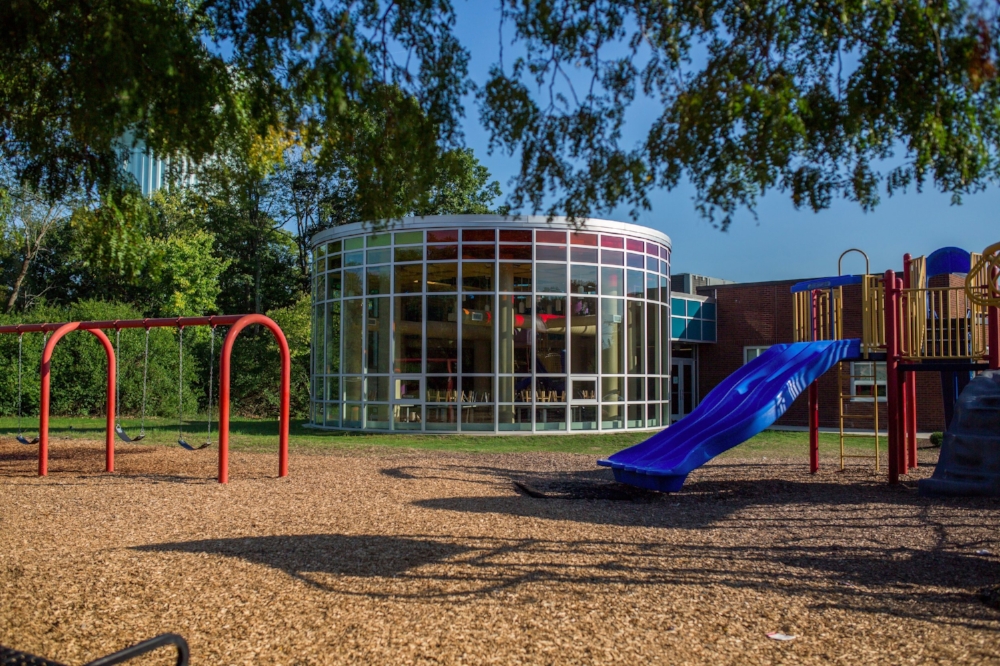 Stewardship is updating antiquated facilities to meet the needs of future students by engaging the student of today.
Pointview Elementary was originally constructed according to the "open classroom" movement of the 60s and 70s. Although the intentions were good, the outcome left something to be desired.
Instead of demolishing the building, TRIAD was able to achieve the original design intentions while rectifying the mistakes through an expansion and renovation. This design was largely inspired by engagement sessions with students and staff. One standout example of this engagement is "Emma's Glass Roof".
Pointview serves a diverse population of students and wants everyone to feel welcome. They adopted a lighthouse theme to serve as a beacon of learning in all aspects. The media center becomes the literal and symbolic center of the building as the classrooms are organized around it as a central hub. The project also includes a circular art room with floor-to-ceiling windows, and a ceiling that opens so the room can also serve as a functional sun dial.
The Shop at Westerville North high school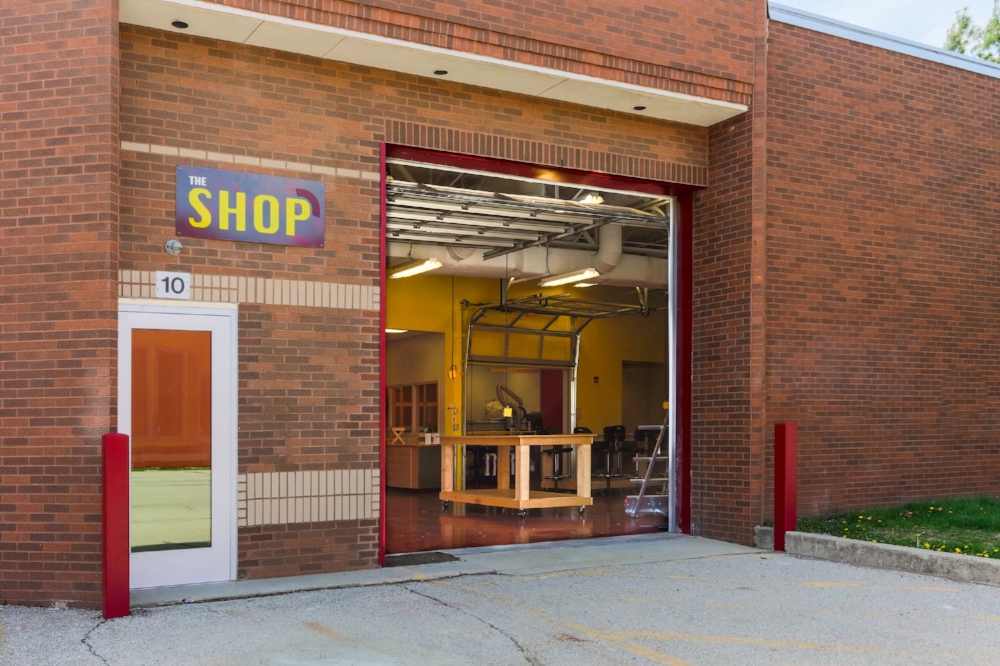 Stewardship is taking lessons we've learned from industry leaders into the classroom to foster students into becoming problem solvers.
The Shop at Westerville North is a fully equipped makerspace intended to facilitate project based learning. All the same tools you would find at the Idea Foundry are available here for Westerville students - wood and metal working, computer programming, electronics.
The space is divided between the workshop and a computer lab that features 3D projection mapping and advanced network capabilities. The workshop opens to the rear parking lot allowing projects to outgrow the space and giving students a chance to work outside.
Students who learn at The Shop will be prepared to take advantage of all that the maker community has to offer. They will also be prepared for the high-tech jobs of the present and future. Most importantly, they will learn that they can make anything they can imagine.
Cedar Bog Nature Preserve education center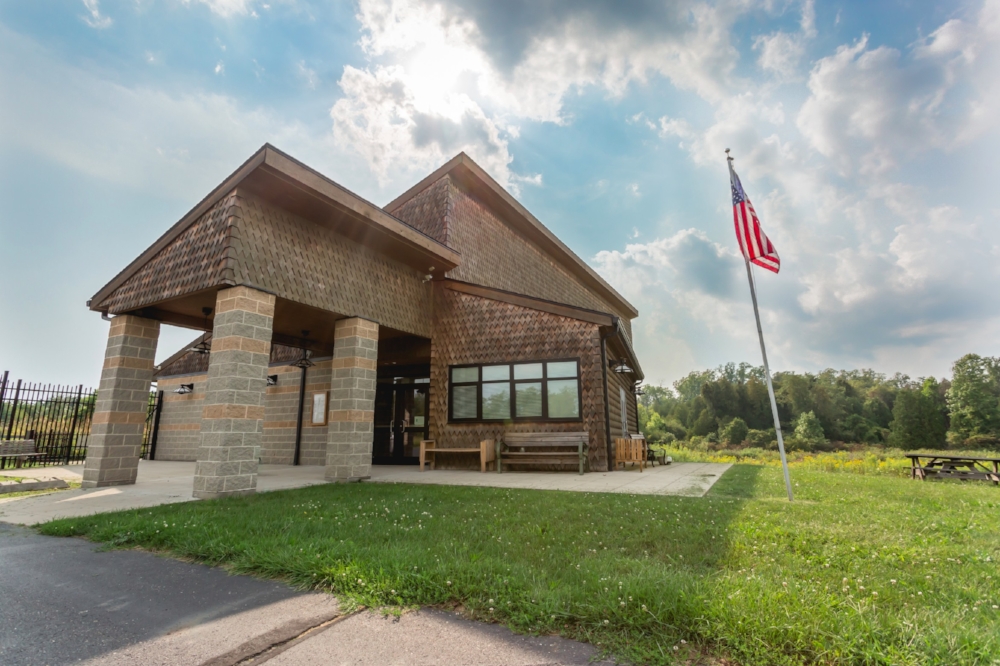 Stewardship is a building that fits seamlessly with its environment that creates opportunities for learning.
A National Natural Landmark, Cedar Bog is the largest and best example of a boreal and prairie fen complex in Ohio. When the Ohio Historical Connection decided to add an education center, they were concerned that building on the site may compromise this national treasure.
TRIAD was able to site the building in a way that respected, actively utilized, and improved the wetlands. Passive and active solar features (building orientation, brise soleil, solar panel, trombe wall) and automatic lighting reduce energy needs, and rain gardens offset runoff and filter water running off of the building. The education center also features a one of a kind open loop geothermal heating system combines with a constructed wetland to manage waste water on site - utilizing water from the fen and returning it cleaner than when it was extracted. As one of the most innovative onsite water treatment systems in Ohio, Cedar Bog's system becomes an active part of the ecosystem and contributes to the ongoing preservation of the natural habitat.
Additionally, the unique and different systems were incorporated into the building in such a way that they could be featured to provide education about different energy efficient and green technologies. Each feature is outfitted with signage that describes how that system works and how it contributes to the overall performance of the building on the site.
Walnut Springs Center for Inspiration
Stewardship is inspiring students to be curious.
The Center for Inspiration (CFI) at Walnut Springs Middle School was designed to immerse students in literature, music, art and craft. The design itself was inspired by the Amedee Ozenfant's painting, "Still Life with Glass of Wine." The guitar shape in the curve of the ceiling was to show students how one form of art can influence another.
The renovation includes a variety of seating options (like a custom circular bookcase/reading nook), a flexible classroom, a special speaker system, a TV studio, and a makerspace complete with a 3D printer.
The CFI turned a passive, single-use space into a dynamic space filled with activities, while still leaving room for students to sit and read or study. The only problem is getting students to leave the Center to go back to class.
Columbus Downtown High School
Stewardship is connecting students with the downtown community to create opportunities for their future.
When Columbus City Schools decided to bring students back to downtown Columbus, they looked to TRIAD to help make sure those students were engaging with the downtown community.
To accomplish this integration, TRIAD focused first on student and visitor experience, and then on ensuring the exterior fit with the existing urban fabric of downtown.
As a vocational school, there were ample opportunities to integrate community and classroom. For example, culinary students at CDHS operate a café that is open to the public, and cosmetology students operate a salon. Proximity to downtown colleges, universities, and businesses create opportunities for real-world endeavors, as well as internship and job prospects.
Stewardship is connecting administration to students and creating environments where kids are excited to learn.
Westerville's Early Learning Center (ELC) serves both special needs students and typically developing peer students. Inspiration is important to all students, so TRIAD incorporated popular characters from educational programming into "Westervillage," an interactive exploration area that mimics Uptown Westerville. Particular attention was paid to color and texture, as both are shown to engage students.
We only get one chance to give students a good first impression about school. It is amazing to watch students experience this building for the first time. Often, they are nervous on their first day. However, after walking into the lobby and experiencing the Westervillage, they are left with the impression that school is fun and a place that they want to be.
The building also houses the district's administrative offices, bringing together departments that had been spread throughout multiple buildings. The removal of barriers brought a sense of community to district staff who previously may not have interacted. They also now interact with the pre-school students providing things like bus duty, and more importantly, slide duty!
Academic Enrichment Center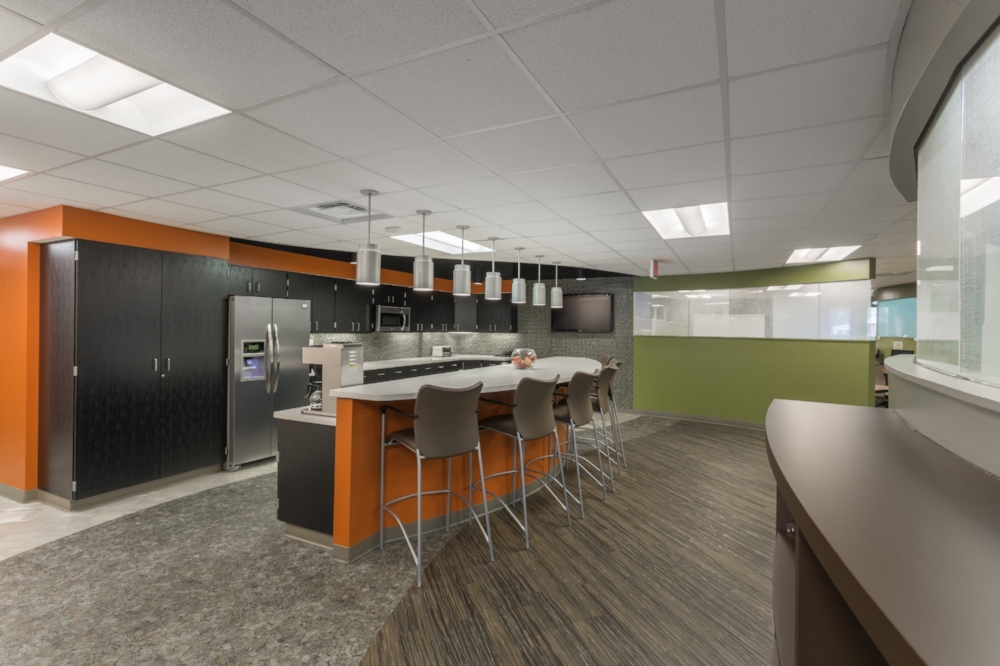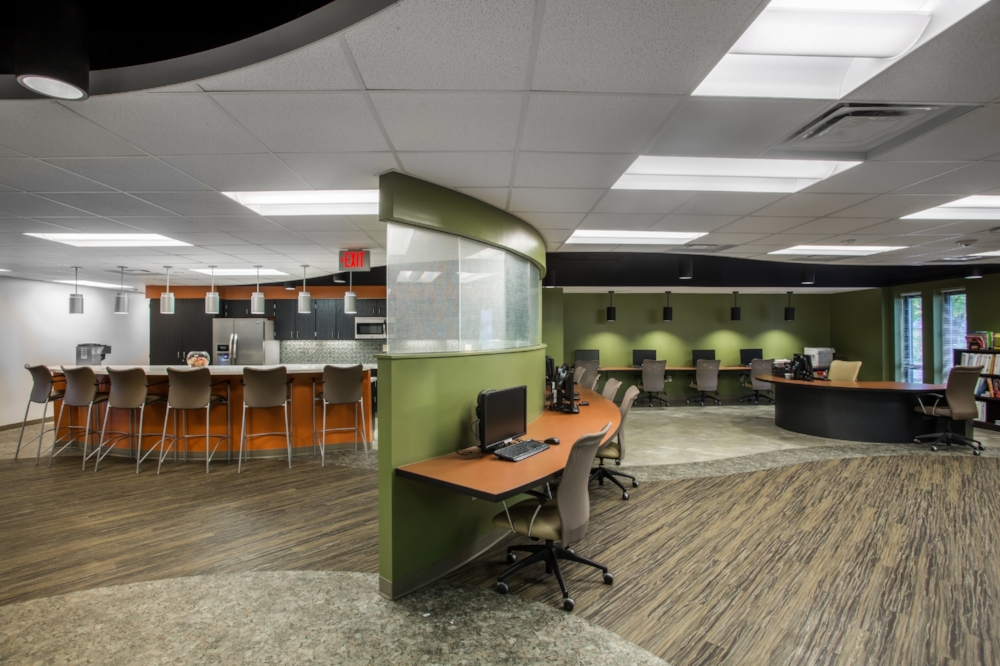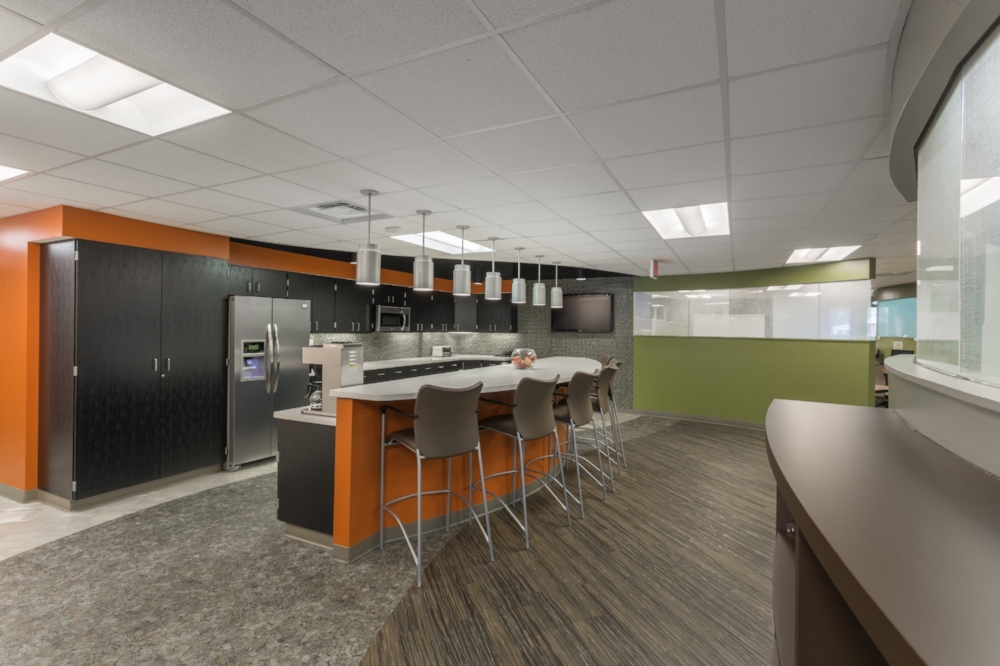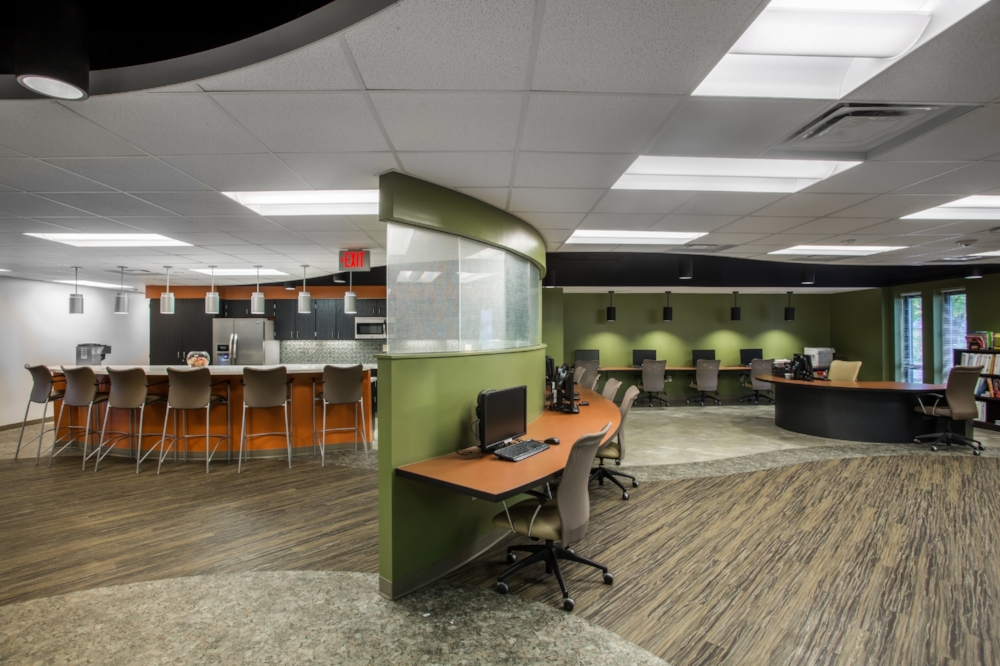 Stewardship is treating everyone with respect.
The Academic Enrichment Center (AEC) was envisioned as a place for at-risk students to complete coursework or pursue a GED. Where others saw students who were near failure and perhaps a lost cause, TRIAD saw the facility's true potential as an incubator to jumpstart these students towards success.
We wanted learners to feel like they were going to a workplace where they were respected and expected to succeed. So we designed the AEC as a professional co-working space, rather than a classroom. There's a reception desk, individual and shared work stations, a kitchenette, and outdoor spaces designed to facilitate a wide range of learning and communication styles. The result is a facility that allows people to learn in their own way, and helps each other succeed.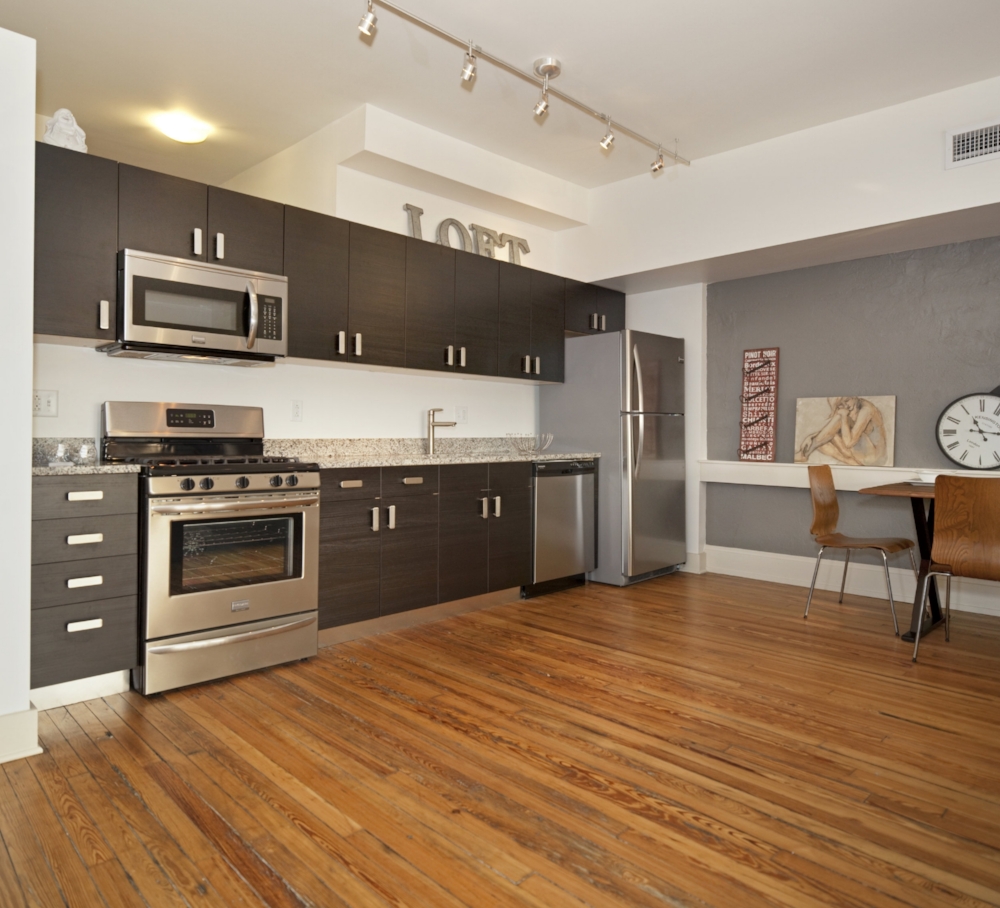 Stewardship is preserving a neighborhood's history while contributing to its future.
Acting as both the Architect and Developer, TRIAD architects completed the adaptive reuse of the historic Yankee Trader Building in downtown Columbus, Ohio. The building, constructed circa 1900, is listed in the National Register of Historic Places for its architectural contribution to the North Market Historic District.
TRIAD, who anchors the 2nd floor, adapted the office lobby into a classic cocktail bar, Denmark. The 1st floor features a restaurant and the upper floors were crafted into 11 luxury apartments. The building itself is situated between Columbus' vibrant High Street and the bustling North Market.
Since the refurbishment, the building has been showcased as a symbol of Columbus' renaissance and example of how to infuse modern amenities into historic preservations.
TRIAD's team managed the project from inception to completion. Our services included architecture, development, owner's representation and management of the historic tax credit process utilized to help with the project financing.